V-BELL'S GROUP OF COMPANIES

,

1ST MAAMOBI LINK KAWUKUDI CLOSE TO THE NEW FIDELITY BANK BRANCH, MAAMOBI

,

P.O.BOX 5495 ACCRA-NORTH

,

ACCRA

,

GREATER ACCRA

,

00233

,

GHANA

+233(0)302226269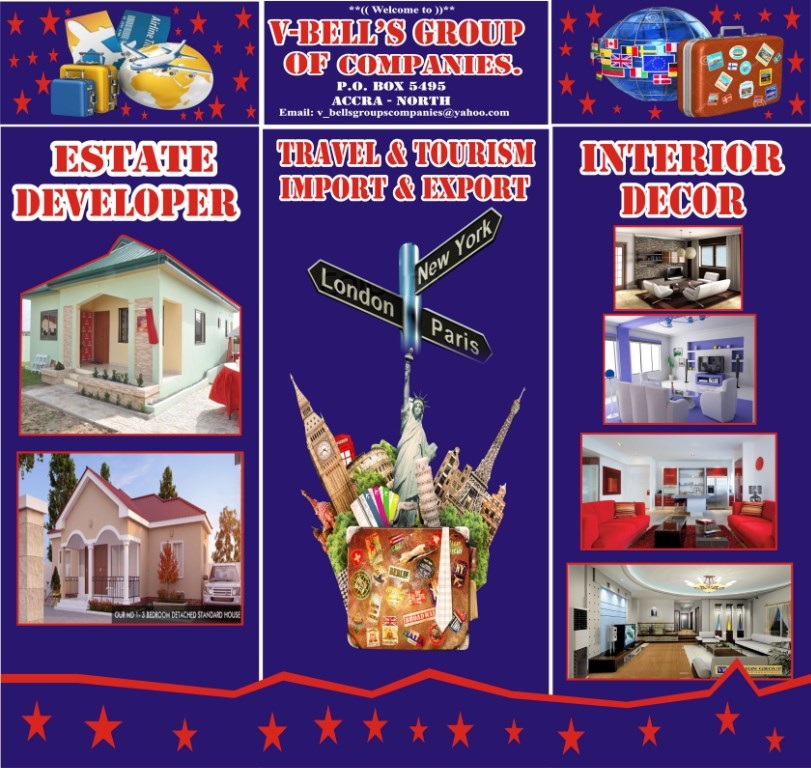 V

-

BELL'S

GROUP

OF

COMPANIES
Ghanaian passports are passports issued exclusively by the Ministry of Foreign Affairs and Regional Integration to Ghanaians granted citizenship in accordance with the Ghanaian nationality law. There are three types of passport booklets – regular, service and diplomatic passports. Ghanaian passport booklets are valid for travel by Ghanaians anywhere in the world, although travel to certain countries and/or for certain purposes may require a visa. apply now

TRAVEL AND TOURS SELECTION
We will gladly advise you on the tour options in order to choose the most suitable one. We are always interested in getting you the best holiday deals, without additional costs or extra time spent for preparation.
You've already chosen your destination, but need help in booking a hotel? We will be more than happy to assist you with this! Just let us know your destination and we'll find the best accommodation for you.
File size: 0.0 b
To make it easier for you, we've gathered all our services in one place. All you need to do is to print our offers and read them when it's convenient for you: on a couch at home, at lunch during work or even on your way home, in the subway. Just download the file above!